Lego Astrobots to Make Mars Journey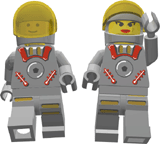 Biff Starling, a "Lego American" (that's the polite terminology these days, you know) has succeeded his partner, Sandy Moondust, as the first Lego Astrobot scheduled to land on the Red Planet due to Sandy's "freak zucchini accident". (I'm not even going to ask.) After Sandy recovers, she'll ride along on the second Mars rover later this month. Both heroic astrobots will ride aboard a mini-DVD which will carry the names of 4 million people who submitted their names before launch.
Children can follow along with Starling's and Moondust's fictional yet educational adventures in online diaries at http://redrovergoestomars.org/astrobots. The toy company also started a test version of their Mars Stations project. People can log into http://redrovergoestomars.org/drive.html and remotely control several small LEGO rovers at different locations around the world in simulated Mars-scapes.
This system operates very similarly to how the real Mars Exploration Rovers work. A controller sends a command and the rover moves a little. The LEGO rovers have Web cams mounted on them so the controller can't see the rovers themselves as they move, just the landscape around them.
The Kennedy Space Center Visitor Complex has a life-sized replica of the Mars Exploration Rovers on display. It's made entirely of LEGO bricks.
A Bad Time to Fall Asleep
Laura Fermi, the widow of Enrico Fermi, relates an anecdote about a delay in the testing of the first atomic bomb.
June 07, 2003
The Orbitz Martini
..."I decided to use the "everything tastes good with gin" philosophy that has brought me so far in life. Sure, Orbitz tastes sickeningly sweet and flat, even when brand new, so perhaps that life giving nectar of gin would spice it up! Ladies and gentleman, I proceeded to make perhaps the only ORBITZ MARTINI this millenium has ever seen!"