In 2003, twin Mars Rovers will be launched towards the Red Planet to study the climate and water history of Mars. NASA has issued an invitation to the public to send your name to Mars on the next Mars Exploration Rover-2003 mission. All the names collected will be recorded onto a small DVD disk that will be attached to the lander that will travel to the surface of Mars. Each rover will photograph and return to Earth a picture of each DVD disk of names as they rest on the Martian surface. Hurry; they'll stop taking names on November 15, 2002, midnight EST. Hopefully, this will end better than the last time.
The Bomb Project
"The Bomb Project is a comprehensive on-line compendium of nuclear-related links, imagery and documentation. It is intended specifically as a resource for artists, and encourages those working in all media, from net.art, film and video, eco-intervention and site-specific installation to more traditional forms of agitprop, to use this site to search for raw material. The Bomb Project has gathered together links to nuclear image archives (still and moving), historical documents, current news, NGOs and activist organizations as well as government labs and arms treaties. It makes accessible the declassified files and graphic documentation produced by the nuclear industry itself, providing a context for comparative study, analysis and creativity."
November 09, 2002
Red Planet Rising
The orbit of Mars is bringing the Red Planet closer to Earth; by August 27 of 2003, it will be 191 million miles closer then it is now, and will appear six times larger and 85 times brighter. It will be the closest that Mars has come to our planet in about 73,000 years, making it "the best viewing opportunity since Neanderthals looked skyward".
November 02, 2002
Retro CD blanks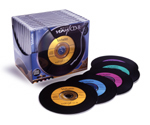 Verbatim has come out with CD-Rs that look like old 45 rpm vinyl records.