I don't know how reliable this link will turn out to be, but here is a pointer to a site where the hit song "Just Like Putin" (as mentioned in a previous posting) can be downloaded as an MP3.
To download, right-click on "takogo_kak_putin.mp3" on the resulting page, and follow your browser's instructions. (Link courtesy of Lenard Leeds.)
Stray dogs used as mobile billboards in Russian city
From Orange-today.co.uk:
Shopworkers grab the dogs in the city of Penza after luring them with cutlets or sausages.
They then spray-paint their shop logo on the animal, reports the Molodoy Leninets newspaper.
The newspaper says workers of rival stores often catch each other's dogs and repaint them in their own colours.
| | | |
| --- | --- | --- |
| | | --- |
Missile Test Paints Sky Patriotic Colors
(or, How I Learned to Stop Worrying and Love the ICBM)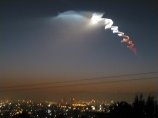 Though such tests are usually conducted at night, an intercontinental ballistic missile test recently put on a spectacular light show that could be seen for miles. Launched from an Air Force base north of Santa Barbara, the missile trail could be seen as far away as New Mexico. A fellow by the name of John Parres grabbed a camera and shot a series of photos.
The unarmed missile traveled about 4,200 miles in about 30 minutes, striking a predetermined target in the Marshall Islands.
September 03, 2002
Rock Icons
Those of you who have tricked out your computer desktops, Red Elvises style, might be interested in Hide Itoh's two collections of guitar icons.
| | | |
| --- | --- | --- |
| | | --- |
News from The Red Elvises
(From the mailing list.) The Red Elvises started to work on the original score and soundtrack to the new feature movie - The Russian Job (Relativity Pictures & American World Pictures). The movie is a comedy about Russian and Italian mafia and was shot in New York and Moscow in 2001. Estimated worldwide release of the movie - first half of 2003. If you liked the soundtrack to the Six String Samurai, you will love this one. It's coming out great!
In August the Red Elvises played themselves in the new Warner Bros. TV series FAST LANE to be aired in the beginning of October 2002 on Fox channel. Don't miss it - it's fan.
Sweet Little Vladimir
Pootie-Poot has become a cult figure in Russia; there seems to be a compulsion among the people to name things after him. Putin fans can now enjoy "an ice cream called "Sweet Little Vladimir" (sladky vovochka) as well as Putin kebabs, tomatoes and lollipops.... a calendar of Putin portraits as well as watches, T-shirts and dish towels emblazoned with Putin's image." And in what may be a government-sponsored publicity stunt, a mysterious girl band has released a single, "A Man like Putin", where the lyrics tell of the singer's desire to leave her drunken boyfriend and be with "Someone like Putin, full of strength; Someone like Putin, who doesn't drink; Someone like Putin, who doesn't hurt me; Someone like Putin, who won't run away."