description
Kitsch 'n giggles for the ROKENROL scene

linkage

latest

get notified
Sign up to get notified by email whenever there's something new and exciting here. Don't worry, we won't sell your address to anyone; that would be counter to the ideals of the revolution.


breaking news

bygone era April 2002
April 30, 2002
The Tom Waits Streaming Event
Alice and Blood Money, the forthcoming discs from Tom Waits due out May 7 on Anti Records, will be available for streaming for a limited time on anti.com. Alice will accessible beginning at 10am PST on April 30 to May 2, while Blood Money will be up at 10am PST from May 3-6. The albums will be available in Real Audio format in one continuous stream.


April 28, 2002
Hub of Soviet Space Program Fights to Get Back on Feet
From Reuters:
By Clara Ferreira-Marques
BAIKONUR, Kazakhstan, April 28 (Reuters) - Small clumps of steppe grass are the only reminder that there was once a lush park in the centre of the town of Baikonur, hub of the Soviet Union's pioneering space programme.
A decade after the collapse of communism, the slow recovery of the Russian space programme has brought no tenants back to the sand-coloured apartment blocks stripped bare during the looting that followed Kazakh independence in 1991.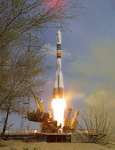 The trickle of people returning to the dusty town, which Russia rents from Kazakhstan under a 1994 agreement, has not restored the population to the 100,000 that lived here during the heyday of Soviet space exploration.
But Baikonur, built on the arid Kazakh steppe two years before the first sputnik, or satellite, was launched into orbit in 1957 and still Russia's main launch pad, is slowly on the mend, long-time residents say.
"There was a time after the fall of the Soviet Union when the town was rudderless. People in the city lived without gas, water, or electricity," said Vladimir Polvektov, head of the Baikonur cosmodrome's safety department, who has lived at the outpost since 1983.
"But things have begun to change. It is a tidy, clean town, and you can walk around safely, day or night."
TOUTING PROGRESS
The town's mayor since 1994, Gennady Dmitriyenko, is not shy of touting Baikonur's progress.
"Before, people came here because they had to," he said. "Those who come now are proud to do so."
Alexander Korchagin, a crafts teacher at a Baikonur school, says the town is isolated from many problems plaguing Kazakhstan.
"Things are better here, the pay is better, and there is no nationalism," said Korchagin, an ethnic Russian who moved from southern Kazakhstan in the mid-1990s.
"There are problems here, but there were different problems, national and otherwise, at home."
But Baikonur, now under joint Russian-Kazakh administration, has not yet solved many of its crippling economic problems.
Russia's space industry is still far from the resource-rich programme of the Soviet era. The number of rockets lifting into the skies above Baikonur each year has fallen sharply.
"We now have roughly six launches a year, but we would need at least nine to break even," said Igor Barmin, head of the top launch pad design bureau.
"At one stage, we had 25 launches a year. Now we can only dream of that."
And though the cosmodrome itself, 30 km (18 miles) from the town, is bustling with military officials and scientists on launch days, many of its buildings have been abandoned to the elements for lack of money.
"We have experienced staff, but unfortunately very few young people. Quite simply, the sector pays very little," said Barmin, whose bureau designed Russia's top launch pads.
SPACE TOURISTS
Fee-paying amateur astronauts, who pay a reported $20 million, or enough to cover the cost of a launch, may help the Russian agency get back on its feet.
But so far only two, South African Mark Shuttleworth, and U.S. millionaire Dennis Tito, have stumped up the cash. The next tourist, still to be named, is expected to blast off in October.
And the city, 250 km (155 miles) from the nearest town and still guarded by military roadblocks, has been slow to capitalise on more standard space-oriented tourism.
"We have transport links, hotels, we can take tourists any time," mayor Dmitriyenko boasts. "Only yesterday 43 tourists arrived on a charter plane."
But the only tourists standing on the viewing platform watching Shuttleworth blast off last week had arrived in Baikonur with U.S.-based Space Adventures. They paid the company, which brokered both Tito and Shuttleworth's flights, $2,500 for a two-day stay.
Few of the city's hotels, built to house military officers or construction workers in Soviet days, are up to Western standards.
The biggest blow to Baikonur will come when Russia decides to proceed with plans to move most -- and eventually all -- of its launches inside Russia proper, to its Plesetsk base just south of the Arctic Circle.
Though keen to move its space operations back inside its borders and save the $115 million annual rent it pays Kazakhstan, Russia says the move is not imminent.
Without launch facilities for either the Soyuz rocket, Russia's workhorse for manned flights, or for the Proton booster used for cargo launches, a full shift is impossible in the near-term.
Only military launches can feasibly be moved from Baikonur for now and the project has been put on hold for lack of funds.
"Of course, it would be great to move launches inside Russia," said Oleg Kononenko, one of Russia's 37-strong team of cosmonauts. "But we need the infrastructure."
In the meantime, the city's joint-administration agreement remains a rare example of close Russian cooperation with a former Soviet state, though not without hiccups.
Russia and Kazakhstan exchanged harsh words when a Proton-K heavy booster rocket crashed in 1999, sending burning debris and potentially hazardous rocket fuel down on the Kazakh steppe.
Kazakhstan imposed a temporary ban on Russian launches, including supply shuttles for the Mir station, since downed in the Pacific Ocean. Russia eventually paid compensation -- and overdue rent on the Baikonur base.
| | | |
| --- | --- | --- |
| | | --- |
The dust of Chernobyl has not settled yet
From The Toronto Star:
Illnesses continue and some fear the worst is yet to come
By Paul Webster
KLYNTSY, Russia
YURI MAXIMENKO was born only three days after a gigantic explosion made Chernobyl the world's worst environmental catastrophe.
By the time Maximenko took his first breath, radioactive rain was falling in his birthplace, Klyntsy, a town of 80,000 in southwestern Russia and 150 kilometres from the Ukrainian nuclear plant.
"It was a bad time and place to be born, for sure," he says, shrugging his broad shoulders and grimacing.
Tens of thousands of children like Maximenko grew up in the severely contaminated zone. And rather than lessening in the 16 years after the April 26, 1986, disaster, the fear of premature cancer and death is deepening among the 200,000 people directly affected.
An epidemic of thyroid cancer is sweeping through the towns and villages of this region of gentle forested hills, fertile farmland and once-prosperous factories. So far, 2,000 children have been diagnosed with the cancer, caused by absorption of radioactive iodine in thyroid glands in their throats.
Although the cancer cases are being successfully treated, the victims musttake drugs every day for the rest of their lives. Another 8,000 cases are expected in coming years.
Maximenko has been fighting thyroid cancer for four years, but he says he still feels fine, plays sports and hopes to join the Russian army if he can stay healthy.
"I know a lot of other kids who have this illness. If I join the army, it'll get me out of the radiation zone."
After the disaster, Soviet officials planned to evacuate the people living in highly radioactive areas. Residents were promised compensation payments and new homes in safe towns.
But just as the massive resettlement program began, the Soviet Uniond isintegrated. Three impoverished new countries, Ukraine, Belarus and Russia, inherited responsibility for the program, which soon choked on chaos and underfunding.
Many residents were reluctant to leave. But even those who desperately wanted to escape had trouble.
On the days following the disaster, Tatiana Krivenos and her five children watched the radiation clouds passing over their home in Novozybkov, a pretty provincial town of 55,000 even closer to Chernobyl.
After the disaster, Krivenos was offered an apartment in Novgorod, a northern Russian city. She abandoned everything and left with the children.
But she found only bitter disappointment.
"We were put in temporary housing," she says. "The winters were terribly cold and we didn't have enough heat. But worst of all, people there thought we were radioactive. They wouldn't let their children play with mine."
The family moved on, settling in two other cities before abandoning theirexodus and returning home.
Now, her children have grown up and started families of their own in the area.
"It is true there are a lot of very sick children here," Krivenos says. "But my grandchildren are fine. So we don't worry about the radioactivity."
Life for the people in the radiation zone has become strangely routine. The mayor of Novozybkov, Ivan Nestorov, says it's time to face the future.
"What we need now is assistance in finding ways to live here safely," he says. "Because there's nowhere else for us to go."
Nestorov wants uncontaminated food so people can stop growing vegetables in radioactive soil. And he wants help for regional economic development programs to make the area self-sufficient; because the real bill from Chernobyl has yet to be delivered.
"We're facing a new wave of illnesses far more complicated than the first wave of thyroid cancer," he warns.
"My biggest worry is for the children of parents who have been exposed to radiation here for 16 years. It's terrifying what could happen here."
According to Nestorov, communities across the radiation zone report an upswing in birth defects and reproductive disorders. Local and regional health officials confirm this.
Anatoly Prochine, head of the Chernobyl Diagnostic Centre in the region's capital, Bryansk, says the thyroid cancer epidemic is a warning of more serious cancers to come, especially leukemia.
The United Nations recently called for a new strategy based not on moving families out of the radiation zone, but on making living conditions safer in it.
Officials say the effort will require new international aid to the afflicted countries, since most programs for Chernobyl victims ended years ago.
The U.N. says new health problems may be far more expensive to treat than the thyroid cancer epidemic. To help the region prepare, it has proposed a 10-year self-sufficiency strategy built on industrial development, enhanced heath care and the provision of safe food in the radiation zone.
Russian ecologists have warned that resettlement remains the only responsible strategy to avoid a major health tragedy.
In Novozybkov, however, Nestorov says the U.N. recommendations are sound and resettlement impossible.
"It's true the health problems will get worse. But we've faced this almost alone here for a decade now....We have to be helped now to look after ourselves."
Paul Webster is a freelance writer based in Moscow.
April 26, 2002
Mushroom Cloud License Plates Bomb in Nevada
(Link via boingboing) From the Los Angeles Times:
As Nevada officials fight against hosting the nation's nuclear repository, the state is offering license plates bearing the image of a nuclear blast.
The fund-raising license plate designed to honor Nevada's atomic past has bombed with some as ill-timed and inappropriate. Others don't have a problem with the idea of cars with optional mushroom cloud license plates sharing roads with tractor-trailers hauling radioactive waste to Yucca Mountain.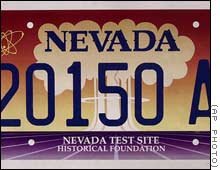 "Nevada being Nevada, this is a unique subject," said Rick Bibbero, 55, a real estate agent in Minden who won $500 with his design for the license tag. "You wouldn't find California trying to memorialize something like this, but this is our past," said Bibbero, who said he's neither for nor against the federal government's plan to entomb 77,000 tons of highly radioactive waste beneath a volcanic ridge 90 miles northwest of Las Vegas.
Kalynda Tilges of Las Vegas had a word for the new multicolor license plates that bear a mushroom cloud, a nucleus-and-atom logo for atomic energy and Albert Einstein's formula for the theory of relativity: "Abomination."
"I would have rather seen a 'Fight Yucca Mountain' license plate with proceeds to go to fighting the dump," said Tilges.
Tom Jacobs, spokesman for the Nevada Department of Motor Vehicles, acknowledged some state residents have had what he called "an emotional response" to the mushroom cloud license plate design.
But the DMV also has received 322 advance requests for the new plates, which he said are due to begin rolling off the presses this summer.
"It's a historical fact that they used to explode nuclear bombs in the desert," Jacobs said.
State lawmakers approved the idea last year, earmarking $25 of the $61 custom license plate registration fee for the Nevada Atomic Testing History Institute, a Las Vegas museum and research center expected to open next year.
"This is an important part of Nevada history and national and international history," said state Senate Minority Leader Dina Titus (D-Las Vegas). She sponsored the bill and recalled little opposition.
"I think Nevadans think testing was patriotic," Titus said. "It was done for the good of the country during the Cold War."
The institute is expected to store, catalog and study documents and memorabilia from the Test Site--a vast federal reservation north of Las Vegas where nuclear testing was conducted above and below ground from 1952 to 1992.
A spokesman for Gov. Kenny Guinn called the timing of the mushroom cloud license plate a coincidence.
http://www.latimes.com/la-000029456apr25.story
April 25, 2002
Comrade Smurf
(Via boingboing) The Smurfs as Marxist parable:
"Papa Smurf represents Karl Marx. He is not so much the leader of the Smurfs as an equal revered by the others for his age and wisdom. He has a beard, as did Marx, and thus could conceivably be a caricature as well. And lastly, he wears red, which is the traditional colour of socialism. Brainy Smurf could represent Trotsky. He is the only one in the village who comes close to matching Papa's intellect - he is a thinker. With his round spectacles, he could also be a caricature of Trotsky. He is often isolated, ridiculed or even ejected from the commune of the village for his ideas. And of course, Trotsky was banished from the USSR."

April 23, 2002
Careful, or you'll catch a case of The Red Elvises
As seen on the Red Elvises Forum (thanks, Michael!); from the Grand Rapids Press:
By John Sinkevics
Consider this volatile, peculiar musical concoction: Take three parts Russian immigrant with classical theatrical training, mix in heaping amounts of rock 'n' roll, surf-guitar sounds and humor, add a pinch of traditional Russian and world music ... and toss gently.
Actually, forget that "toss gently" thing.
These ingredients must be beaten together with gusto.

As a recipe for success, the Red Elvises (aka, "Your Favorite Band," "Siberian Surf Rock Kings" or "Kick-Ass Rock 'n' Rollers From Siberia") have taken anything but a conventional approach to musical cuisine.
"I call it rock 'n' roll: It's not a style of music, it's an attitude," said multi-instrumentalist Oleg Bernov, currently the band's drummer. "Surf music is something that guitar players play when they learn how to play in the garage. It's guitar music."
That guitar music also happens to be party music with a cult-like following.
"It's like a secret society," said Bernov, 37, who moved to the United States 12 years ago. "Once people saw it, they saw it's a good time -- and a good time is contagious. Everybody wants to have a good time. We don't have any blues."
Born and raised near Siberia, members formed the band in California in 1996 after settling in the Los Angeles area. (Bernov and Yuzov had toured the States previously as part of a Russian folk-music outfit called LIMPOPO.)
The trio -- Bernov (drums, vocals), Igor Yuzov (bass, vocals) and Zhenya Kolykhanov (lead guitar, vocals) -- brings a wildly entertaining blend of Siberian surf-rock music to The B.O.B. Thursday in a dance party sponsored by community radio station WYCE-FM (88.1) and the Dam Store in Lowell.
The band has made a splash over the past six years, landing TV appearances on everything from "Melrose Place" to VH1 and MTV, as well as roles in the 1998 cult film "Six String Samurai."
But it's their unusual "good-time" music that's made the Red Elvises a true underground phenomenon and kept the band rocking and rolling through nine albums (with titles such as "I Wanna See You Bellydance" and "Shake Your Pelvis") and 100-plus gigs on the road each year.
The band's 10th CD, recorded mostly in Russian, will be released next month, just in time for the trio to make a triumphant return to its homeland for a tour that begins June 1 in Moscow.
"It's nice to be an American rock star back home," Bernov said in a telephone interview from New York City last week, noting the band's first Russian tour last year earned "a lot of press coverage and TV" and attracted throngs of autograph-seeking Russian fans.
To say the Red Elvises' rock-star style is bombastic may be an understatement: Before taking over on drums, Bernov used to play a Stealth-bomber-sized, triangular-shaped bass guitar, and the talented trio often switches instruments on the fly during concerts.
The cover of their 2001 CD, "Welcome to the Freakshow," features band members in the buff (not counting shoes and socks, with their instruments strategically placed).
Though rock-based, their music is as eclectic as it is pleasingly infectious, with elements of everything from Mideast textures to rockabilly.
"We are having fun," Bernov said. "That's the only reason to do it. Otherwise I'd do something else. All three of us kind of enjoy performing and are good live performers. The guitar player (Kolykhanov) is just an amazing musician."
As for Bernov, who began playing drums regularly just a year ago, he's the group's cutup. "I'm just an all-around clown and fool," he said, then added: "My life is excellent; I love it."
| | | |
| --- | --- | --- |
| | | --- |
I Wanna See You (Temple) Dance
Neat-o tessellated animation from the Japan Tessellation Design Association.
April 21, 2002
So, you wanna start a record label?
As seen on Higgy's Page:
Bloodshot Records shares the inside information on starting--and keeping--a music business.

New City Chicago posed a series of questions to Rob Miller and Nan Warshaw, owners of Bloodshot Records, an independent alternative-country label. Since first releasing "For a Life of Sin: Insurgent Country Volume 1" (with then-partner Eric Babcock) in 1993, Bloodshot has built a national reputation releasing records from the likes of Ryan Adams, the Waco Brothers, Neko Case, and the Bottle Rockets. We asked for the dirt-in-their-nails details, from inception to present. We asked for numbers, in an effort to prevent the financial haze from obscuring those details. A case study, so to speak, of the inner workings of an independent label, from conception to success.

What were the start-up costs for Bloodshot?

MILLER: Between the three of us, we each kicked in, like, two grand. We all had day jobs; I was a carpenter painting houses, [Nan] was doing publicity work, Eric was working at Flying Fish. We had no grand illusions of "Hey, we're starting a label!" We were just doing it for the goof. We had no grand expectations, not even of putting out Record Number Two. We didn't have an aspiration for anything until like three years ago, when we woke up and were like "Holy shit, there's people actually depending on us for their livelihood."

What does it cost to manufacture one CD?

WARSHAW: Raw manufacturing costs run from $.80 to $1.20-but that's the broadest possible minimum, including artwork--none of that includes the films, shrink wrapping, design costs, shipping. It essentially includes the jewel case.

And how many CDs do you press at once?

MILLER: Minimum of 1,000. Ryan Adams, 50,000--I think we did 30,000 out of the box. Bottle Rockets, 15,000 to 20,000. It's all over the place.

And how does distribution work?

WARSHAW: Distribution is the bane of an indie label's existence. We're lucky to be in the position now where we have great distribution--comparatively speaking--but it's still ongoing work that Steve [Duba] and his assistant here spend a lot of time micromanaging retail. Although we have a distributor that takes care of physically getting the records into the store, it's still up to the label to let the store know what's available, because all the distribution reps are overwhelmed.

MILLER: There's just not many stores that will take independent stuff anymore. All the mom and pops are going away. Everyone's buying CDs at Best Buy, Wal-Mart, Target. Best Buy just instituted a policy that if it can't sell 5,000 copies throughout their whole chain, they won't take one. Best Buy used to be pretty good for us--they even used to have regional buyers. You're seeing a lot of the big chains who used to have regional sales buyers giving way to some guy who's sitting in a bunker somewhere in Topeka, Kansas, doing the buying for the entire chain, irrespective of regional trends or tastes--the continuing Walmartization of the country. Small chains are disappearing.

WARSHAW: We call the mom and pops ourselves--even though our distributor might have them as an account.

MILLER: But [our distributor] is, rightfully so, occupied trying to get our stuff into bigger chains. I would rather have them spend their time doing that, and we'll take care of the smaller stores, building personal relationships. A Borders might be interested in buying a box of thirty Alejandro [Escovedo] CDs, but they won't give a shit about buying two Trailer Bride CDs. But, the small store will. So it's up to us to call them and say: `Will you take one of these, will you take two of these... .' Spread that over the whole country, you just sold 500 extra Trailer Bride CDs, which to a major label is nothing, to our distributor is nothing, but to a band like Trailer Bride, to us who love the band, it means the difference between the record making money or the record not making money.
| | | |
| --- | --- | --- |
| | | --- |
Call for Pop Icons and Elvis Art
As seen on Higgy's Page:
Artists are invited to enter "Visions of Elvis, and other Pop Cultural Icons of the '50s, '60s and '70s," an international, all media, unjuried exhibition to take place July 26 through August 26, 2002, being sponsored by Gallery 218/ Walker's Point Artists Association, Inc., Milwaukee, Wisconsin, USA.
The exhibit is open to all professional artists throughout the world, 18 years or older.
The deadline for delivery of work at the gallery is June 15, 2002. Any media may be entered. Video or film artists must provide their own viewing equipment.
Entry fee is $35 for two pieces under 4x4ft. each additional piece is $10. Fee for work 4x4 ft.and larger is $35 with limit to one per show. All 2D work must be framed and wired for hanging. No clip frames or screw eyes. All 3D work must have their own black or white pedestal.
Shipped works must be in sturdy, reusable cartons. Please use bubble wrap, not peanuts, -plus a wooden or cardboard box. All shipping costs, including insurance, is the responsibility of the artist.
"Elvis and other Pop Icons..." will open on "Gallery Night," July 26, 2002, 7-10pm, featuring a LIVE Elvis Performance by the LV James Show, along with a special guest performer, as well as a People's choice award. Visitors are encouraged to wear their Pop Icon inspired attire and populux foods will be served.
In addition, a free Retro-Music karaoke night will take place August 15, 8pm.
A prospectus (required) is available at Gallery 218, 218 South 2nd Street, Milwaukee WI. 53204 or email info@gallery218.com, or print out an entry form from the website: www.gallery218.com/Elvis.
Walker's Point Artists Association, Inc. is committed to providing exhibition opportunities to local artists. WPAA sponsors membership and open shows, art fairs, open mikes, performances, participates in community service projects, and operates its own gallery space; "Gallery 218". Every artist who enters contributes to the survival of WPAA/Gallery 218. Regular Gallery Hours are: Wed/Thurs: Noon–5pm, Fri: 5-9pm, Sat/Sun: Noon–5pm
April 19, 2002
The latest in home decor: Elvis furniture
From CNN:
CHARLOTTE, North Carolina (AP) -- The King may have left the building 25 years ago, but Elvis Presley's phenomenal marketing power has everyone all shook up.
Vaughan-Bassett Furniture Co., based in Galax, Virginia, will introduce two new lines of Elvis Presley bedroom pieces at the world's largest furniture trade show -- at the International Home Furnishings Market -- which gets under way on Thursday.

Branding is one of the hottest trends in the furniture business, with companies striking licensing deals to use names like Ernest Hemingway, Arnold Palmer -- even the Titanic.
But it's anybody's guess what The King of Rock 'n' Roll will mean to a couple redecorating the master bedroom.
Vaughan-Bassett officials insist no green shag or red velvet will be used in the new "Graceland" and "Elvis Presley's Hollywood" bedroom lines.
Still, they did try to have some fun.
Two of the signature pieces are the "Love Me Tender" bed and the "Burning Love" heart-shaped mirror.
To accommodate different tastes, the two furniture groups will offer a variety of pieces that range from refined to downright ostentatious.
Doug Bassett, Vaughan-Bassett's vice president of sales and marketing and the great-grandson of the company's founder, said: "There's a way to buy this furniture that whispers Elvis' name.
"And there's another way if you feel like shouting from the rooftop."
For example, furniture buyers interested in owning a piece of The King can choose a sleek bed with padded headboard and matching armoire that merely hints at Presley with silver doorknobs in the shape of an "E" and a "P."
Then there's the suite with a platinum-record mirror and more initial-shaped drawer knobs.
And there's another, more traditional style armoire -- except for the frosted glass insert inscribed with Elvis' signature and musical notes.
'It might do very well'
Industry analyst Britt Beemer's curiosity was piqued by the idea of an Presley furniture line.
"I wouldn't think of Elvis Presley's name if I were thinking about the epitome of good taste," said Beemer. "But it might do very well."
Bob Slotnicki, a branding expert with Global Licensing & Trademark Ltd. in Hickory, said he could not come up with a better match than Elvis and Vaughan-Bassett.
"The big question is whether the retail customer is going to buy one piece as a novelty or a whole suite of furniture," he said "But if you get 20 million people buying one piece, that's not bad."
Slotnicki said the idea of Elvis furniture has much to commend it, starting with Presley's lasting appeal a generation after his death. The typical Elvis Presley fan also is the kind of person who buys furniture.
"We're talking about middle-aged women," he said.
Dealers may also want to stock the line as a traffic builder, he said: "The Elvis Presley stuff will get you in the door, even if you want to stand and giggle at it."
The entire program came about in a rather whimsical way.
Last August, Bassett was trying to visit one of the company's plants in Tupelo, Mississippi, which is more famous for being Presley's birthplace. Bassett's flight was delayed in Memphis, Tennessee, and Bassett couldn't find a rental car or a hotel room.
"I realized it was Elvis Week and there were thousands of fans in town to go to Graceland," he said. When he finally got home to Galax, he shared his story with some of his colleagues. That's when the light bulb went on.
The company put in a call to Elvis Presley Enterprises and began negotiating a licensing agreement.
"We learned very quickly that the Elvis fan and the Vaughan-Bassett customer are one and the same," said Bassett. "Seventy percent of them are women under 50 years old. The same people who go to Graceland are the ones who buy furniture."
The Elvis furniture line was unveiled at Graceland on Presley's birthday, January 8. Now it's finally going to be shown to the rest of the world.
"We've already had dozens of commitments from dealers to buy furniture and not a single buyer has seen a sketch, color panel -- nothing," Bassett said. "This will drive traffic to their stores. The dealers understand that and they are excited about it."
Bassett said the furniture will be moderately priced, with beds from $499 to $999 at retail and entire suites available for $1,999 to $2,999.
There are no guarantees. While many celebrity lines, including Bob Timberlake, Arnold Palmer and Ernest Hemingway have sold well, there's also some notable failures.
"The classic is the Titanic line, which is a case study in the bad elements to avoid in licensing," Slotnicki said.
One major problem was the fact that by the time the furniture was available in the stores, the blockbuster movie was "last year's news and available to buy in the dollar bin."
The movie also was marketed to teen-age girls.
"They don't buy a lot of furniture," he said.
Bassett said the Elvis Presley furniture has a lot of things going for it. Besides the far-reaching star appeal, it also is a mid-priced product line aimed at middle-class America.
"If you walk down the street and ask 100 people who is Bob or Alex or Eddie, most of them won't say Timberlake, Julian and Bauer," he said. "I think 100 out of 100 would know who Elvis is."
Another advantage is the fact that this summer marks the 25th anniversary of Elvis' death. Disney is coming out with an Elvis-inspired cartoon and McDonald's is going to latch on with a promotional campaign.
And BMG Entertainment, owner of RCA Records, is planning to release an anthology of The King's No. 1 hits later this year.
"This is something that could go on for years, if not decades," said Bassett.
April 16, 2002
Play Dress-up with Jesus
Last night
Jesus called me on the phone
I was surprised
He looked so good
In that red dress
And those blue suede shoes
(Alas, no blue suede shoes. But the devil outfit looks funky on Jesus.)
| | | |
| --- | --- | --- |
| | | --- |
Space Station
Via MetaFilter: Space Station, the first 3D IMAX space film, opens this week in the US. Tom Cruise narrates. (Hanks must have been busy.)
| | | |
| --- | --- | --- |
| | | --- |
MANties
Panties for men. Aye shirona. Stick to boxers, guys. Please.
| | | |
| --- | --- | --- |
| | | --- |
The Mother of All Matrioshkes
As seen on boingboing: 50" tall, 50 piece, $2,000 Russian nesting doll.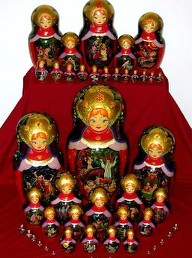 April 13, 2002
"Your ID, please."
Apparently, those were the words that greeted Yuri Gagarin upon his return to Earth. On the anniversary of his historic trip, Pravda reported that his capsule landed in the territory of a "secret missile division", and his landing in a flaming space capsule surely raised a few eyebrows. The official landing site had to be "moved", as the secret military installation couldn't be shown on television.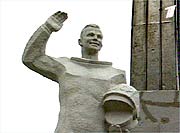 April 10, 2002
*sniffle*
From The Moscow Times:
Roots of Anti-Americanism
By Boris Kagarlitsky
Public opinion polls show that anti-American sentiment in Russia has reached a level not seen since the days of the Cold War. This hostility is not the product of a political confrontation, as was the case during the Soviet era, or of a diplomatic standoff, as happened on Yevgeny Primakov's watch as prime minister. Paradoxically, it has arisen during a period of unprecedented political partnership between Russia and the United States in the "war on terrorism."

America's popularity reached its peak during perestroika. Russians loved America simply because they had been forbidden to do so for 40 years. But all that changed during the 1990s, as U.S. support for the unpopular policies of Boris Yeltsin's administration steadily eroded its appeal. I remember how in October 1993, after the shelling of parliament, my American students found themselves surrounded by a general malevolence. "Tell people you're Canadian," I advised. "Canadians never hurt anyone."
The anti-American mood was fiercest during the conflict in the Balkans. For the first time crowds of angry young people gathered outside the U.S. Embassy -- not the indigent and marginal, but middle-class kids who had grown up in the post-communist era and never underwent the ideological indoctrination of Soviet schools. These scenes gave the lie to the theory that after 10 to 15 years of democracy and free market reforms, Russians would come to see themselves as part of the West.
The tragedy of Sept. 11 altered this situation somewhat. People felt sorry for the Americans, though their pity was often mixed with schadenfreude of the sort expressed in the popular slogan: "We're sorry for the American people, not for America." But the attitude toward America did significantly improve.
As it turned out, this trend was short-lived. America's poll numbers in Russia began to fall along with bombs dropped by U.S. planes in Afghanistan. Hostility heated up when U.S. troops appeared in Central Asia and reached boiling point when Washington imposed restrictions on imports from Russia. According to data from the Public Opinion Foundation collected this spring, more than 70 percent of those polled considered the United States a hostile country.
This mood has not gone unnoticed by politicians of all stripes, who indulge in "Yankee-bashing" to boost their numbers in the run-up to parliamentary elections next year. Putin and his inner circle, on the other hand, have little choice but to demonstrate their loyalty to their U.S. allies. As a result they seem more and more isolated from society.
Russian anti-Americanism is as diverse as Russia itself, and it expresses three different, even mutually exclusive, views of the world.
The nationalists, for a start, have never been big fans of the United States. They hate Americans mostly because they hate the entire outside world. In the United States they see a country that spreads the worldwide Jewish conspiracy and the repulsive ideas of political correctness, human rights and racial tolerance. They suspect the United States of providing clandestine aid to the Chechen fighters.
Russia's many ignorant and unprincipled politicians constitute the second main group. They know that America-bashing is a big crowd-pleaser. More important, they can blame foreigners for their own stupid mistakes. For them, anti-Americanism is a political alibi. They talk about a confrontation without reflecting on the meaning of their words.
Today's Russia is not the Soviet Union, and ideologically it's in the same camp as the United States. But a half-conscious memory of the Soviet past remains part of the national psyche. In their dreams, upper-class Russians still see themselves as communist party committee secretaries.
The third group criticizes the United States for the same reason that the left all over the world criticizes the Bush administration. For them, the United States is a country with a questionable record on human rights, the environment and race relations -- a country that looks on indifferently at the suffering of the Chechens and the Palestinians. This is still a minority position. But that minority is growing.
Much in Russia will depend on which of these trends achieves ascendancy. To overcome anti-Americanism as such, however, something also needs to change in the United States itself.
Boris Kagarlitsky is a Moscow-based sociologist.
http://www.moscowtimes.ru/stories/2002/04/09/009.html
April 09, 2002
Siberia Thawing?
Eskimos Cope With Global Warming
Usha Lee McFarling of the Los Angeles Times reports that Eskimos are trying to cope with the fact that the ice in Russia, Alaska, Canada and Greenland has started to thaw. Thunder and lightning, which were once rare, have become common. A strange warm wind now blows in from the south. Hunters who prided themselves on their ability to read the sky say they no longer can predict the sudden blizzards. "The Earth," one hunter decided, "is turning faster." In recent years, thousands of seabirds have washed up dead and deformed seal pups have become a common sight. Whales appear sick and undernourished. The walrus is becoming scarce, as are tundra rabbits.

Zoya Telpina, a schoolteacher in an outpost of 350 Chukchi reindeer herders and marine mammal hunters, says that a winter sea without ice once seemed like "a fairy tale." But last winter, when Telpina looked from her kitchen window toward the Bering Sea, she saw something she'd never seen in 38 years: The open ocean—water where there had always been ice.
Telpina's husband Mikhail, a dog-sled musher, has seen mushrooms on the tundra shrivel and whole herds of reindeer starve. He has cut open the bellies of salmon to find strange insects inside. He has seen willows growing in places where there have never been trees before.
The changes are so widespread that they have caused changes in the Eskimo languages. In Chukotka, where the natives speak Siberian Yupik, they use new words such as misullijuq, which means rainy snow, and are less likely to use words like umughagek, which means ice that is safe to walk on. In Nunavet, Canada, the Inuit people say the weather is uggianaqtuq—like a familiar friend acting strangely.
In the last century, parts of the Arctic have warmed by 10 degrees Fahrenheit, which is 10 times the global average. Sea ice covers 15% less of the Arctic Ocean than it did 20 years ago, and that ice has thinned from an average of 10 feet to less than 6. A group of scientists who spent a year aboard an icebreaker concluded that the year-round sea ice that sustains marine mammals and those who hunt them could vanish completely in 50 years. The U.S. Navy is already planning ahead for an ice-free Arctic by exploring ways to defend the previously ice-clogged Northwest Passage from an attack by sea.
In the Arctic, a few degrees of warmth can mean the difference between ice and water, permafrost or mud, hunger or even starvation. There have been few long-term climate studies of the Arctic; weather stations in the Far North are just 50 years old. There is almost no data from places like Russia's Chukotka Peninsula, which is only 55 miles from Alaska.
Western scientists are turning to the memories of native elders, counting animal pelts collected by hunters and documenting the collective knowledge of entire villages. This may be the only way to trace the past 50 years of change in the Arctic and to figure out its cause. "We have all these people paying very close attention to the animals they hunt and the sea ice they travel on," says Henry Huntington, a scientific consultant in Alaska. "It's often extremely accurate and far better than anything science has come up with."
Some native observations at first don't seem consistent with global warming, such as snowier winters and colder summers, but they also fit the scientists' models. Warmer air is expected to create more storms and rain in the Arctic. Melting sea ice in summer can lower the water temperature and lead to cooler temperatures on nearby land.
Some native elders resent scientists who come ashore thinking they know more about the place than those who live there. Others mistrust Western scientists who come to gather data and never send back their findings. A group of toxicologists came to remote villages several years ago to collect women's breast milk to measure pollution levels. The scientists detected organic pollutants such as dioxin and PCBs in the breast milk, but never told the women about these results.
The hunters of Chukotka live in small villages without pickup trucks or snowmobiles, without supply ships or supermarkets. They have 19th century harpoons, small boats and limited fuel for their hunts. These villagers are almost entirely dependent on the icy sea for their food and may be living in the time when their ancient way of life finally ends.
Food is not as easy to come by now that the weather has changed. Gennady Inankeuyas has hunted for seals and walrus for many years, dragging heavy sleds and animal carcasses over the ice. While he was butchering a seal for meat last November, the thin ice cracked open beneath him. He was eventually pulled out of the frigid water, cut from his frozen sealskin pants and revived. He was lucky that he didn't lose any limbs to frostbite. This year, Inankeuyas returned to the uncertain ice. "Of course it's dangerous," he says. "But the village needs the food." Data shows that the number of walrus is declining, because they also have to work harder to find food. Walrus mothers nurse their babies on sea-ice floes. The mothers must now dive longer and deeper from the ice to the sea floor to find clams.
In recent years, the Eskimo hunters have noticed that gray whales have become extremely skinny. The meat of some freshly killed whales smells rancid, "like medicine," according to Maxim Agnagisyak. Even the sled dogs won't eat it. Hunters think the flesh is rotting because the whales aren't getting enough to eat.
Scientists are beginning to analyze samples of whale blubber from the region to find an explanation. For several years, record numbers of gray whales have washed up dead and emaciated as they migrate to their winter calving grounds in Baja California.
The number of reindeer herds fell sharply after the Soviet Union collapsed and the government subsidies that helped sustain the herds were cut off. The animals began starving, and their numbers continue to decline, because they cannot find food beneath the strange, brittle new snow that the natives call misullijuq.
The grazing animals normally survive the winter by nosing through soft, dry snow to feed on the tundra vegetation insulated below. In recent warm years, winter rains have alternated with snow, leaving an icy crust that is difficult to penetrate and lacerates the animals' legs.
Arctic people have survived for many centuries alongside polar bears, seals and whales in conditions too harsh for most human settlements. Archeological evidence suggests that today's Siberian Eskimos arrived in Chukotka from central Asia about 2,500 years ago.
The early Eskimos followed their prey. They lived in underground houses insulated from the cold and moved among seasonal hunting camps. They collected eggs from seabirds and salmon and plucked greens, berries and mushrooms from the tundra. They hunted walrus, seal and whale.
The flesh of marine mammals, such as the blubbery skin of the whale, is still preferred by many to European foods. Although Ludmilla Ainana, a 66-year-old Eskimo, can now buy chicken and noodles and exotic ingredients like soy sauce at a grocery, she still prefers the food of her childhood. "Walrus flippers with sea cabbage," she says. "It's delicious food." Eskimo leaders ask foreign visitors, "Are you a Greenpeace?" because they are wary of Western environmentalists, who often oppose their whaling.
The fate of the Siberian Eskimo remains as uncertain as the Arctic ice in late spring.Hunters with tiny boats and little fuel must now go much farther out to sea for food. Sometimes they return empty-handed. Sometimes they return with unusual prey, such as fish native to warmer waters. Sometimes, when the seas are rough, they do not return at all. Eskimos may learn to adapt to new food species that could move north with the shifting temperatures.
Nearby is an island called Yttygran. On its beach lie 60 massive bowhead whale skulls arranged geometrically. Huge whale jawbones stand upright among them. This is an abandoned shrine to the whale that was built in the 13th or 14th century. It was built by a large and organized civilization, that left behind 120 stone meat lockers that still contain mummified whale meat.
Today's Eskimos know nothing about the people who built this, says Igor Krupnik, a Smithsonian anthropologist who helped excavate the site in the 1970s. That society simply vanished, much like the Viking settlements in Greenland that flourished for several hundred years only to disappear when the Arctic climate cooled in the 15th century. Says Krupnik, "It's an example of how precarious life is in the Arctic." Last winter, a melted block of ice, caused by an early thaw, pushed down some of the whale bones that had remained undisturbed for over 700 years.
Caleb Pungowiyi, an Eskimo who works with scientists to record the observations of his elders, says, "When this Earth starts to be destroyed, we feel it."
http://www.unknowncountry.com/news/?id=1420
April 08, 2002
Litecubes
Um... well. I'm all for glowsticks, but frankly, these Litecubes look a little too much like frozen alien slime from Battlefield: Earth (which was a thoroughly sucky movie anyway and Heinlein Hubbard (thanks, Dennis!) would be spinning in his grave). But if you're into radioactive colortinis, knock yourself out!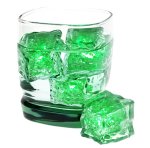 April 04, 2002
World Space Party!
Friday, April 12, the world will celebrate the anniversary of Yuri Gagarin's historic orbital flight. 100 parties will be thrown in all seven Earth continents (including Antarctica) to celebrate humankind's introduction to the rest of the galaxy. Check Yuri's Night to see if there's a party near you. And if you can't make it, be sure to play Rocketman a few times in his honor!
| | | |
| --- | --- | --- |
| | | --- |
DON'T YOU KNOW THE DEWEY DECIMAL SYSTEM?
File this one under "subversive tendencies". Tom the Dancing Bug explains how libraries are ruining, just ruining, the publishing companies through the Napsterization of books.
| | | |
| --- | --- | --- |
| | | --- |
Yes, but will it have flashy neon lights?
Project has Muscovites going 'round and 'round
By Fred Weir | Special to The Christian Science Monitor
A factory that used to build supersecret armaments for the Soviet military has been handed a new mission: to construct the world's largest Ferris wheel – with a mini-bar and washroom in every car – and erect it on a hill overlooking downtown Moscow.
Mayor Yury Luzhkov quietly signed off on the $20-million rotating colossus at a February meeting of the city building council. That prompted ripples of irritation among architects and urban planners who say Moscow is sinking into chaos while City Hall plays with grand construction projects that turn out to be unlovable eyesores.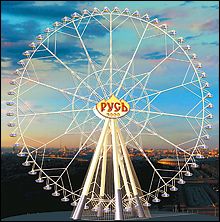 But enthusiasts say the 558-foot diameter wheel, which will be visible from any point in the city, will stimulate tourism, provide affordable fun for all, and change Moscow's age-old reputation as a dour, gray, and wintry place.
"We wanted to construct something remarkable in Moscow," says Vladimir Gnezdilov, director of the Pax Co., Russia's largest builder of amusement-park machines. Pax expects to begin assembling the giant Ferris wheel on the Sparrow Hills, about two miles from the Kremlin, by the end of this year.
The titanic device, named the Rus-3000, will have 60 heated cabins of transparent plexiglass, each comfortably seating 24 people on recliner chairs and sofas. A single revolution will last half an hour, time enough for a light meal – served airline style – or a few refreshments from the onboard bar. One special VIP cabin will be permanently reserved for President Vladimir Putin, another for the project's godfather, Mayor Luzhkov. Other cabins may be rented for weddings, birthdays, and special occasions.
Year round, passengers will soar some 650 feet above the Sparrow Hills, from which the entire metropolis of Moscow and its surrounding farmlands will be spread out beneath them. At night, the wheel will be illuminated by strings of high-powered colored lights. "I believe this ride will become the new holiday symbol of Moscow, and will revolutionize entertainment in this city," Mr. Gnezdilov says.
The Pax Co. is one of post-Soviet Russia's few successful experiments in military conversion. Its sprawling factory in the Moscow suburb of Mitino produced high-tech equipment for the USSR's military and space programs. In the past decade the company has successfully reinvented itself as a maker of roller-coasters, Ferris wheels, free-fall towers, giant centrifuges, and other scream-inducing amusement park rides. It sells its products all over the world. "Our specialty is anything based on a wheel-like mechanism," says Gnezdilov. "No matter how big and complex the design, we can build it."
Up to 10 million people are expected to ride the Rus-3000 annually, Gnezdilov adds – five times more than the wheel's nearest competitor in size, the 410-foot British Airways London Eye, built in 1999. Although the London Eye has exceeded the number of projected visitors, it struggled financially in its first year of operation.
Pax intends to assemble, own, and operate the new attraction, though Moscow City Hall will be given an undisclosed stake in exchange for the land it will sit on. The company believes it can recoup its investment within two years.
Critics complain that the wheel is the latest in a string of Luzhkov-sponsored boondoggles, decided with no public input and without concern for more urgent development priorities. "From 200 meters [650 feet] in the air, passengers on this ride will get a clear view of the mess post-Soviet Moscow has become," says Marine Tutcheva, director of Rozhdestvenka, a large, private architectural bureau. "They will see deserted industrial zones, roads snarled with traffic jams, dilapidated housing estates, and depleted green zones. The wheel itself will further disfigure Moscow's skyline and become yet another standing joke."
Luzhkov has been praised for repairing Moscow's notoriously bad roads and building new ones. But the rest of the city's vital infrastructure, particularly its underground sewers, pipes, and building foundations, are reportedly in a state of near-collapse. "Apart from the roads, there is little being done to keep Moscow afloat," says Dmitri Stoyanov, an architect who works for a federal government engineering design workshop. "At the same time, there are some wild projects like this Ferris wheel, that appear to be about politics rather than sound urban planning."
Luzhkov's monumental projects of the past decade – all of which will be clearly visible from the peak of the Rus-3000 – include the Church of Christ the Savior, a $300-million reconstruction of a cavernous cathedral, just two blocks from the Kremlin, that was destroyed in the 1930s by Soviet dictator Joseph Stalin.
Another is the Manege underground shopping complex, adjacent to Red Square, so hastily constructed, in time for Moscow's 850th birthday in 1998, that it already requires fundamental repairs.
http://www.csmonitor.com/2002/0403/p07s01-woeu.html
| | | |
| --- | --- | --- |
| | | --- |
Smart glasses mean instant refills
Wired glasses can now send an electronic signal to your waiter when your drink starts getting low. Because the more you drink, the better the band sounds.
April 02, 2002
Schmelvis Revisited
Continuing with our fine tradition of hard-hitting reporting here at Seeing Red, here's another article on the subject of Elvis Presley's Judaic roots. Wonder if Jerusalem's Elvis Inn, described as a "wacky little café", is anything like the Red Room?
| | | |
| --- | --- | --- |
| | | --- |
Elvis Simpson Ate America
Mmm... Elvis...

| | | |
| --- | --- | --- |
| | | --- |
The Jewish Side of Elvis
From The Jerusalem Post:
Nearly 25 years after Elvis Presley's death, two Canadian filmmakers are tackling what they believe to be two vital questions: Was Elvis Jewish and, if so, does anyone care?

To answer those questions, the Montreal-based Diversus Productions crew traveled through the American South on a journey to Memphis, and then to Israel, in summer 2000. Accompanying them was Schmelvis, a proselytizing hassidic Elvis impersonator, and Rabbi Reuben Poupko of Montreal, who served as the film's spiritual adviser.
The result of their quest is a 76-minute documentary, Schmelvis: Searching for the King's Jewish Roots, scheduled to premiere at the Toronto Jewish Film Festival in April and open to American audiences at New York's Knitting Factory in May.
The film's star is Dan Hartal, a hassid from Montreal. When he dons his rhinestone-studded white jumpsuit adorned with an oversized Star of David belt buckle and a red cape also covered with stars, he becomes Schmelvis. Although Hartal claims to have "a deep spiritual connection" with Presley, Schmelvis can often be fuzzy on the details, such as the lyrics to "Blue Suede Shoes."
It doesn't matter that Schmelvis doesn't know Elvis's lyrics, because he usually makes up his own. Hartal's rendition of "Heartbreak Hotel," for instance, includes the lyrics, "I'm leaving town tomorrow / I'm leaving town for sure / Going to yeshiva / Won't be coming here no more / Well that's all right Yiddishe-mamma."
While the film's producers expected such desecration of the classic Elvis narrative to elicit a backlash in the South, they were surprised when most people they asked were ambivalent about the King's newfound heritage.
"Elvis had a good influence on them," said Max Wallace, the director. "They have a lot of tolerant values. Maybe it's his grandmother's Jewish roots that inspired that."
But some Elvis purists proved to be not so agreeable. In the film, Schmelvis tried to enter the Images of Elvis impersonator contest in Memphis. Doc Franklin, the contest's organizer whose claim to Elvis legitimacy is his stint as veterinarian to Presley's pet chimpanzee, Scatter, would not allow Schmelvis to present his hassidic version of the King.
"No religion and no politics," Franklin told Schmelvis. Schmelvis slumped away as the voice of the film's producer, Evan Beloff, intoned, "Elvis would have wanted Schmelvis to get up there. He had an affection for Jews, and he would have understood where Schmelvis was coming from."
But in a later scene in Israel, some hassidim reveled in Presley's Jewish roots, which can be traced to his maternal great-great-grandmother, Nancy Burdine Tackett, a Jew. Religious identity is matrilineal, according to Jewish law.
While in the Dead Sea with a cameraman and sound technician in tow, the filmmakers came across two shirtless hassidim floating. The locals were able to shed light on the relevance of Elvis's Jewishness.
"Do you think that is important or not important that Elvis may have been Jewish?" asked Jonathan Goldstein, the film's coproducer.
"It is," one replied. "Music changes a person upside down."
Beloff then asked if the king of rock and roll, the so-called messiah of pop culture, being Jewish would constitute another sign of the coming of the Messianic Age.
"It is," the other hassid said.
The film's spiritual adviser said the hassidim were fascinated that someone with Jewish roots could affect the world like Presley did. "The very religious found it a vindication of their mystical notion of the sparks of holiness being scattered with Elvis's music," Poupko said in an interview.
While Elvis may have scattered holiness with his music, Schmelvis's contribution includes a small step in resolving tensions between Israelis and Palestinians. In Abu Ghosh, just outside Jerusalem, where the crew stopped for lunch at the Elvis Inn, a restaurant and memorabilia store devoted to the King, Schmelvis played an impromptu concert for a group of Palestinian schoolchildren on a day trip from the Gaza Strip. The children and their chaperones danced merrily around Schmelvis as he sang and played his guitar at the foot of what is believed to be the world's largest Elvis statue.
As the children boarded their bus to go home, Schmelvis jumped aboard and said, "I just want to tell you that Schmelvis brings peace to you. And I want to thank you very much, you've been a wonderful audience."
In his desire to spread Presley's spirit, Hartal said he is attempting to parlay any success the film may have into advancing his career as Schmelvis.
"I'm not going to make fun of Elvis," said Hartal, who can be booked through his Web site, www3.sympatico.ca/dluxenberg000, for parties, bar mitzvas, weddings, and funerals. "There's a lot of Jewish to Elvis."
Whatever the fate of Schmelvis, Presley's Jewishness may be larger than the crew behind the film.
In one of the movie's most touching moments, Beloff interviews Jeannette Fruchter, for whom a teenage Presley served as a Shabbos goy.
Fruchter, who with her late husband Alfred, an Orthodox rabbi, lived in an apartment above the Presleys on Memphis's Alabama Avenue, said Elvis always carried a yarmulke in his pocket and loved eating matza ball soup. Gladys Presley wanted her son to be a doctor, Fruchter said.
The Presleys' Alabama Avenue landlord, Fagie Shaffer, said young Elvis had cosmetic surgery before his career took off, prompting Wallace to declare his faith in Presley's Jewishness.
"Elvis' mother wanted him to be a doctor, he loved matza ball soup, and he had a nose job," he said. "If that doesn't prove that he's Jewish, nothing will."
http://www.jpost.com/Editions/2002/03/27/Culture/Music.45982.html